CITY 2 PLUS
With removable wheels, the CITY 2 PLUS can instantly be reduced to 3 manageable pieces with the heaviest piece wieghing only 40 lbs. Built for ultimate adjustability, it features expandable seating, leg rest, joystick and a 135 degree reclining back. Plus, the contoured seats and hydraulic shocks ensure a comfortable ride all while holding up to 395 lbs.
GP302 CRICKET
The cricket weighs just as much as the CITY 2 PLUS disassembled yet lacks several of the comfort and performance features you'd expect. Smaller front and rear wheels also impact maneuverability and may lead to a bumpy ride on rough terrain. A much shorter range of only 9.3 miles may require charging multiple times especially when traveling.
MOST FEATURE RICH
CITY 2 PLUS
$2999OR96.76 /Month
Holds up to 395 lbs
Max Speed 4.5 mph (5-Speed)
Range 15.5 Miles
115° Reclining Back
Expandable Seating 19" - 23.5"
Removable Wheels (reduces to 40 lbs)
Adjustable Footrest
Adjustable Joystick
2 Year Warranty on Drive Train/Motor
8" Front Wheels
12" Rear Wheels
Contoured 3" Thick Seat
2 Batteries Included
20" Back Rest Cushion
Net Weight 58 lbs
Cup Holder Included
GET YOURS TODAY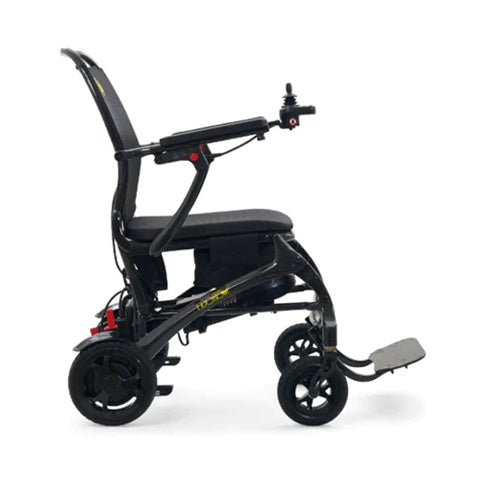 GP302 CRICKET
$2699
Holds up to 300 lbs
Max Speed 3.7 mph (5-Speed)
Range 9.3 Miles
No Recline
Fixed Seating Width
o Removable Wheels
No Adjustable Footrest
No Adjustable Joystick
13 Month Warranty on Drive Train/Motor
7" Front Wheels
8.5" Rear Wheels
1.25" Seat
1 Battery Only
17" Back Rest Cushion
Net Weight 39.3 lbs
Cup Holder NOT Included
All information is gathered from https://www.goldentech.com/power-wheelchairs/foldable-power-wheelchairs/gp301stride/ and is accurate as of March 2023.
Kind of Cool!

We are back from Cape Breton and the travel buggy performed well. I used the buggy through Toronto airport and right up to the plane door.

Barbara N.
The chair has allowed me freedom and independence

I wanted the chair to give me mobility to go shopping, using the chair from my car, and taking the chair with me when flying. The chair meets all of these requirements and has allowed me freedom and independence.

Alder C.
The Travel Buggy is incredible!

I have the City model and it's AWESOME!! It truly is as lightweight, easily-compactible, and versatile as the website says! I've taken it all over Edmonton, and even took it onto hiking trails (some paved, some not) in Jasper!

Rosie T.
It was local and amazingly affordable

For long excursions such as the Edmonton Comic Expo, a regular wheelchair just couldn't cut it with having to wheel myself or having someone else wheel me around. Just didn't seem right.

Lee W.
Thanks again for your help!

I couldn't get to class independently on a regular basis; I had to rely on friends to push me through the snow. This chair has helped a lot. Having the Travel Buggy means I can be a lot more independent, and takes away some of the stress of planning out my days to figure out who can help get me to class!

Ali I.