DASH ULTRA-LITE
The DASH ULTRA-LITE is designed for those who value convenience and ease of use. Its lightweight and compact design makes it easy to transport and store, making it a hassle-free mobility solution. It offers a comfortable ride with a spacious seat and an intuitive 360 degree joystick. The extendable joystick provides flexibility and ease of control, while the rear wheel shock absorbers and perforated wheels enhance comfort during the ride. With a range of 9.5 miles, it's perfect for those who love to explore. While a 5 year warranty and a 30-day return policy ensure peace of mind.
KD smart chair
Its heavier weight can make transportation and storage more challenging. It lacks several comfort features such as an extendable joystick, rear wheel shock absorbers, and perforated wheels, which could potentially compromise the smoothness of the ride. The chair's single color option also offers less personalization compared to the DASH ULTRA-LITE. While it does come with a standard warranty, the lack of information about its return policy might be a concern for some users. Smaller rear wheels may make it harder to traverse harsh terrain.
BEST VALUE FOR MONEY
DASH ULTRA-LITE
$2299OR74.17 /Month
Holds up to 265 lbs
Net Weight 39 lbs
Max Speed 4.5 mph (5-Speed)
Range 9.5 Miles
Turning Radius 24"
Seat Cushion 17" x 16"
Extendable Joystick
Rear Wheel Shock Absorbers
Perforated Wheels for added comfort
12" Rear Wheels
170W Brushless Motors
5 Year Warranty on Frame
2 Year Warranty on Motors
1 Year Warranty on Battery
30 Day Returns (No Restocking Fee)
Available in 4 vibrant colors
GET YOURS TODAY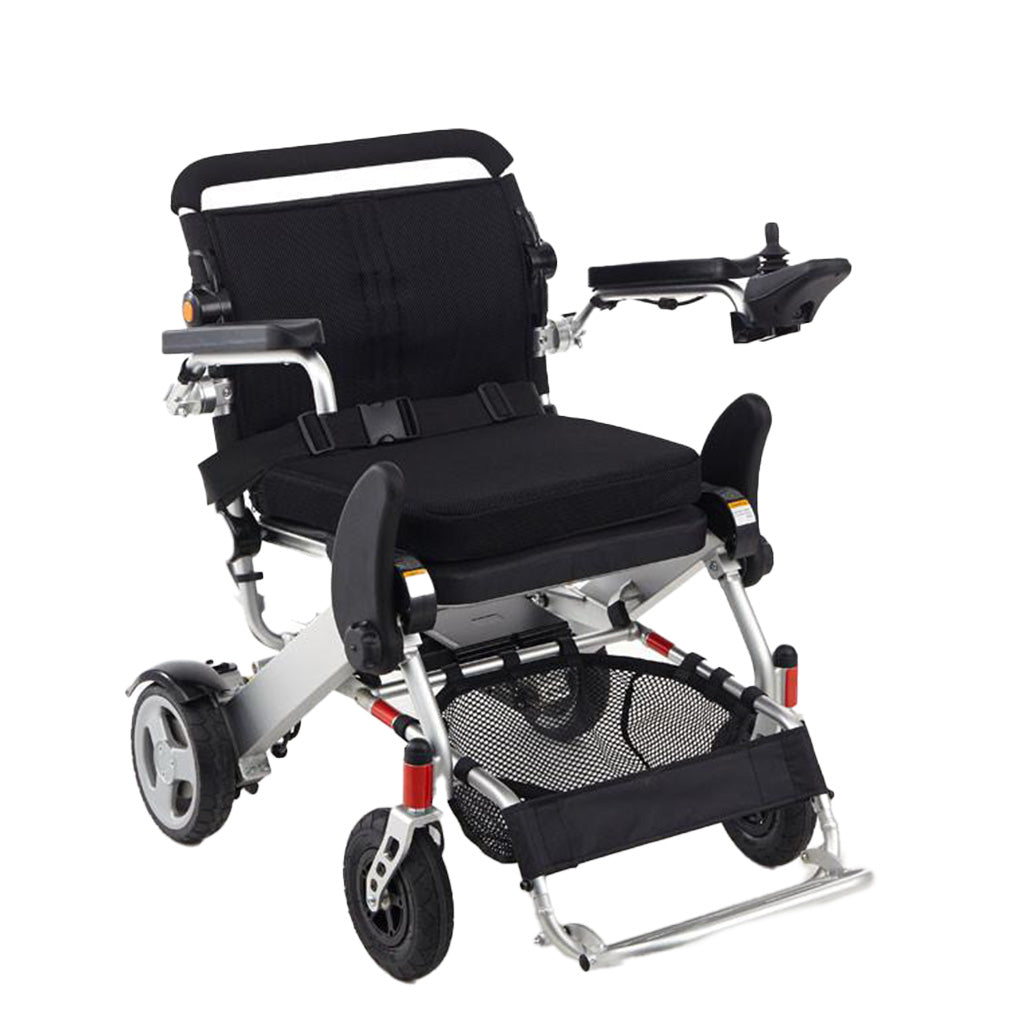 FALCON KD
$1962
Holds up to 253 lbs
Net Weight 59 lbs
Max Speed 3.7 mph
Range 9 Miles
Turning Radius 32"
Seat Cushion 15" x 16"
No Extendable Joystick
No Rear Wheel Shock Absorbers
No Perforated Wheels
8" Rear Wheels
180W Brushless Motors
No Information Available
1 Year Warranty on Motors
6 Month Warranty on Battery
No Information Available
Single Color Option
All information is gathered from https://www.falconmobility.com/collections/electric-wheelchairs/products/kd-smart-chair and is accurate as of June 2023.
Kind of Cool!

We are back from Cape Breton and the travel buggy performed well. I used the buggy through Toronto airport and right up to the plane door.

Barbara N.
The chair has allowed me freedom and independence

I wanted the chair to give me mobility to go shopping, using the chair from my car, and taking the chair with me when flying. The chair meets all of these requirements and has allowed me freedom and independence.

Alder C.
The Travel Buggy is incredible!

I have the City model and it's AWESOME!! It truly is as lightweight, easily-compactible, and versatile as the website says! I've taken it all over Edmonton, and even took it onto hiking trails (some paved, some not) in Jasper!

Rosie T.
It was local and amazingly affordable

For long excursions such as the Edmonton Comic Expo, a regular wheelchair just couldn't cut it with having to wheel myself or having someone else wheel me around. Just didn't seem right.

Lee W.
Thanks again for your help!

I couldn't get to class independently on a regular basis; I had to rely on friends to push me through the snow. This chair has helped a lot. Having the Travel Buggy means I can be a lot more independent, and takes away some of the stress of planning out my days to figure out who can help get me to class!

Ali I.